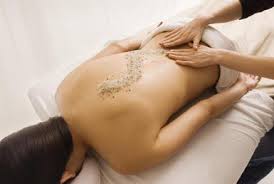 SOOTH, CALM & NOURISH
Lavender Mango Butter Body Wrap & Polish – 70 min/$90
This treatment provides advanced corrective care for dry & irritated skin. Our luscious warmed mango butter, pure soy,& lavender work to restore your moisture levels while sooth and heal your skin.
Lavender Soy Body Scrub Exfoliation – 50 min/$57
This treatment will leave your skin soothed, nourished and calm. Created with gentle exfoliating agents including jojoba beads & apricot seed powder this skin smoothing scrub works to remove dry/dead skin cells, while re-balancing skin's tone & texture. Good for normal to dry and more sensitive skin types.
HYDRATE & REPAIR
Acai Body Wrap & Polish -60 min/$90
This treatment helps fight against environmental damage to your skin. Rich in anti-oxidants, this full body wrap will improve moisture levels and circulation for the skin that is dry and showing signs of aging.
DETOX, RE-MINERALIZE & RE-BALANCE
Green Tea & Pacific Seaweed Body Wrap & Salt Glow Exfoliation – 60 min/$90
Seaweed Salt Glow Exfoliation – 50 min/$57
Seaweed Salt Glow with Fronds – 60 min/$90
Purify the skin and smooth away dead skin cells with an exfoliation of Saskatchewan mined glacial sea salts infused with antioxidant green tea and organic Pacific Seaweed.
Pacific Seaweed Fronds – add on – $5 per frond
Benefits: re-balancing, nourishing, hydrating, cell regenerating, detoxifying, purifying, oxygenating, and re-mineralizing.
Minerals in fronds (kelp): Sodium, Potassium, Calcium, Phosphorus, Magnesium
*Add nutrient rich pacific seaweed fronds for $5 per frond. After treatment, take the fronds home for an extra 10 uses.
Beauty Through Balance Green Tea Indian Spice Oil – add on $7
Concentrated Formula. Targets muscle/joint pain, fluid retention, dry skin conditions, signs of cellulite, inflammation, low immune system.
*Add on to any service