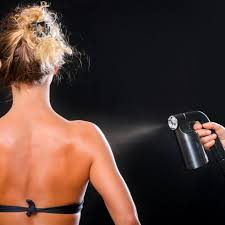 A spray tan that gives you a nice sunkissed look.
How to Prepare for your Spray Tan:
Shower, shave, exfoliate the day before (using an oil free exfoliant or loofah)
All waxing/sugaring should be done at least 12 hours prior
No lotions, deodorant, perfumes or makeup
Bring dark, loose-fitting clothing to wear home
After a Spray Tan:
DO NOT shower,workout/sweat, swim or use a hot tub for 10-12 hours after a spray tan. A shower must be done before resuming any workouts/pool/hottub so the colour doesn't run. Once you have had your first shower the bronzer layer will rinse off (this is normal)
DO NOT use a loofah or any scrub in the shower, it will take the spray tan off in patches
Your spray tan will last 5-7 days depending on how much you shower.
Try to keep the skin moist with lotion so your spray tan won't flake off
You will look darker 3 hours after your spray tan.